My Work
Some of my clients
"It was a seamless process working with Lia. She's professional yet easy to engage with. Thank you Lia for your encouragement and guidance. Your talent is much appreciated."

Marsh Naidoo, Raising Kellan
"Writing about disability is a complex and specialised area, and Lia was able to take on our project with ease. We look forward to working with you again!"

Rachael Mole, SIC
"The quality of her work is incredible. Her experience as a disability writer has been essential for us. You're a wonderful advocate and cheerleader!"

Alice Hargreaves, SIC
"Lia writes with an understanding of disability and also with a passion and commitment to get her message across to a reader. Thank you Lia for doing such a great job for us!

Lorraine Woodward, Becoming Rent Able
About Lia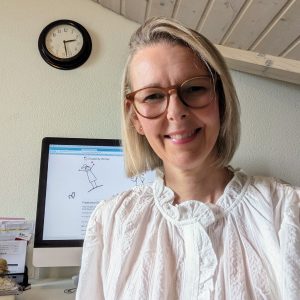 We all have a story to share.
And, the truth is, most nonprofits struggle to survive.

My story is no different.

I've sweated blood, not to mention exhausted my financial savings supporting our one-in-a-million guide dog school to survive, and thrive.
A proud, non-profit organization that supports blind, deaf/blind, and partially sighted people with the life skills they need to achieve confidence, independence, and autonomy.

But, disability inclusion and accessibility is a rough, long-term journey, isn't it?

So, how did I end up in content marketing writing about disability?

Here's the short version.

My dream was to kickstart a guide dog school in Greece.
After a few attempts, I accepted the in-my-face fact: I failed.
But, the International Guide Dog Federation, noticed my efforts, and a small guide dog school from Switzerland, VBM, reached out.

Join us, they said.

We'll teach you everything you need to know about starting and running a nonprofit organization. You'll also learn how to teach blind people Orientation and Mobility (O&M), train guide dogs, and match them to their future partners.

Sure! That doesn't sound intimidating at all.

I said yes because I desperately wanted to stop hearing my mom say, "Put on a sweater, it's cold outside" even though it was summer.

Fast-forward two decades later and Lara Guide Dog School in Athens is going strong, despite Greek financial misery, and a pandemic behind us.

Three years ago, I decided it was time for other young and passionate people to do the work.

I wished to take my passion for writing and use it to empower disability awareness, accessibility, and inclusion in the workplace.
And, I'll be straight up with you.
I didn't think people would pay me to write for them!
Soon after, guide dog schools became my first clients.
Then, clients from other areas of the disability sector reached out.
Now, I spend my time doing what I love most, writing.
Helping your businesses create content empowering accessibility and inclusion in the workplace.
Warm wishes from Basel.

Lia 🖤

About Lilly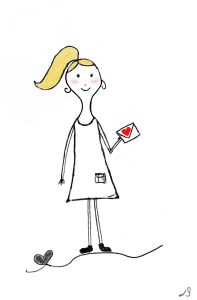 What's up with the stick figure?

Meet Lilly, the inspiration that drives Disability Writer.

Lilly was born out of the need for user-friendly, straightforward images that are uniquely, me.

Now, she inspires, encourages, and is by far unapologetically, the loudest disability advocate in my mind.

Her ability to become whatever she wishes gives me the freedom to create images that will hopefully engage and inspire you on your accessibility journey.

I draw Lilly using a brilliant program called, Procreate. It's a mega-powerful digital illustration app – I adore it because of its precise drawing abilities and the ease you can share files on any device.

Enjoy!
Lia and Lilly 🖤