3 Simple Accessibility Tips to Make Your LinkedIn Content Inclusive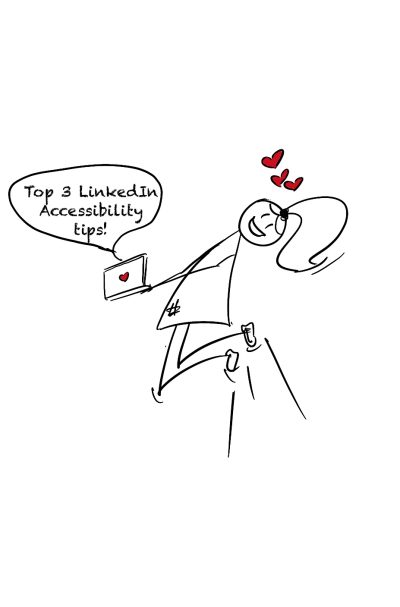 Do you want to create more accessible and inclusive LinkedIn content?
Sure you do.
Because, it's no fun pretending you are an inclusive business cooking up an accessible LinkedIn post only to have it look like a dead plate, right?
Don't worry, I got your back.

These 3 simple tips will help you create accessible social media content that engages and delights disabled people and makes you a trusted disability-inclusive authority.
Ready?

1. The simple art of Alt text
Do you want people with visual disabilities to glimpse inside your post?
Then promise them a generous vision.

Use alt text.
Alt text is the text you see describing an image or a graphic (like the one I have for the image above). It's also called "alt attributes" or "alt descriptions".
It's helpful when a blind or partially sighted person uses a screen reader to view your post because they'll know what your photo is about.
I know what you're thinking.
Can't I leave it blank?
Sure, you could let LinkedIn do its magic but do you want to risk disregarding your keywords and losing precious ranking points?

When you use alt text with your images you're welcoming all users to understand and enjoy your trustworthy content.
Gentle reminder: Deafblind people don't use a screen reader.
Instead, they use a braille display or speech recognition software.
So, if you want the best possible result, add alt text in the alt text box, in your post, and in the comment section.
Why in the comment section?
Because your image description might be too long.
In that case, you will not be able to add it to your post along with all the other insightful information you're sharing.
2. The inclusive hashtag
This social media accessibility tip is misunderstood and misused.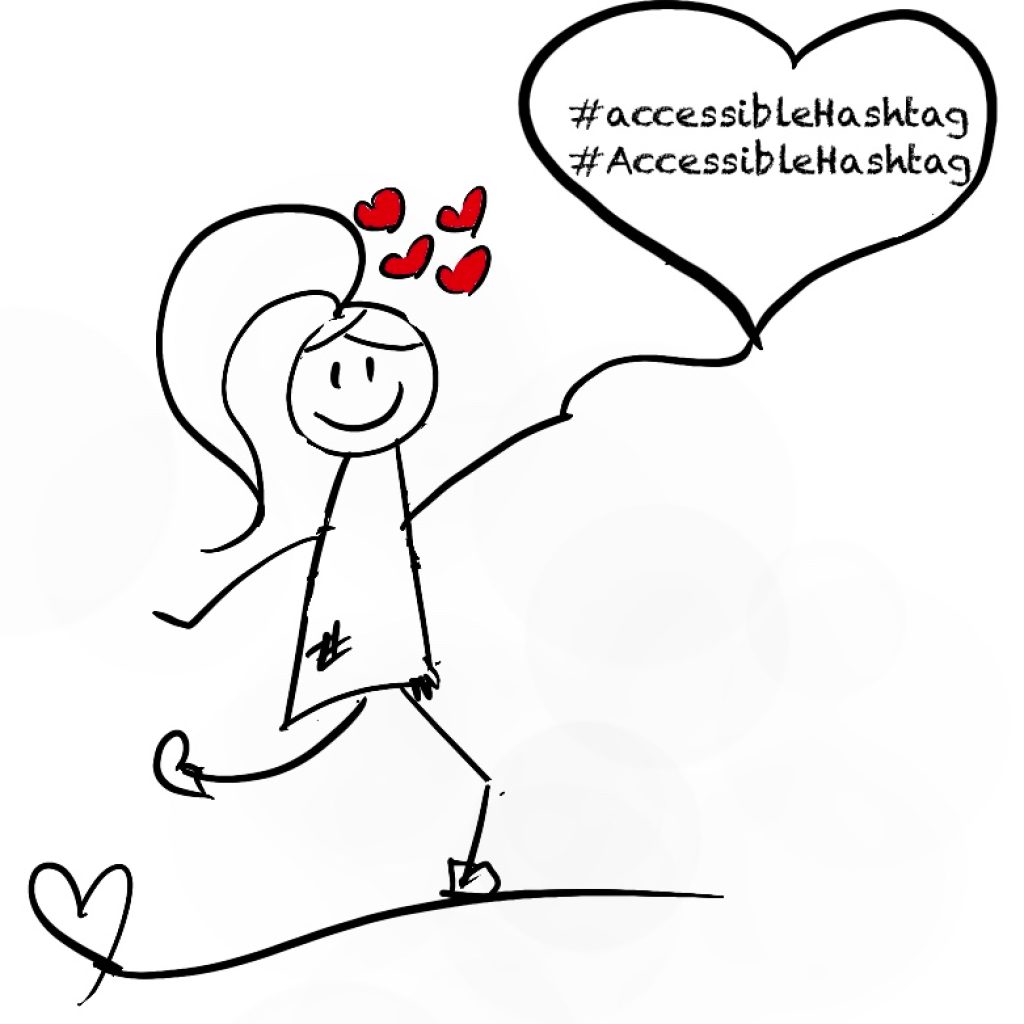 But this tip makes the difference between inclusion and ableism.
It makes the difference between getting your social media posts disregarded or
understood by disabled people.
You see, screen readers convert on-screen text (and other visual elements) into synthesized speech or braille language.
When you use accessible hashtags, the screen reader detects them and
reads them out as individual words instead of one, long and scrambled word.


There are 2 ways to create accessible hashtags.
1. Camel Case — capitalize the first word of each word in your multi-
word hashtag like this:

#AccessibleHashtags
2. Pascal Case — capitalize the second letter of the second word of your multi-word hashtag like this:

#accessibleHashtags
Accessible hashtags also help people with dyslexia or a cognitive disability to identify the patterns and relationships between words.
Gentle reminder: Avoid placing your hashtag inline because screen readers read out punctuation marks, so you can imagine what that sounds like when they're mid-post.
Warning: LinkedIn doesn't support this feature yet and has a nasty habit of switching them back.

So, double-check your hashtags to make sure they're accessible before you publish.
Accessibility tip: Use the text-to-speech program on your phone or the free NonVisual Desktop Access (NVDA) tool to test your hashtags.


3. The accessible Emoji
We all love the little bite-sized emotion that gives feeling to our text.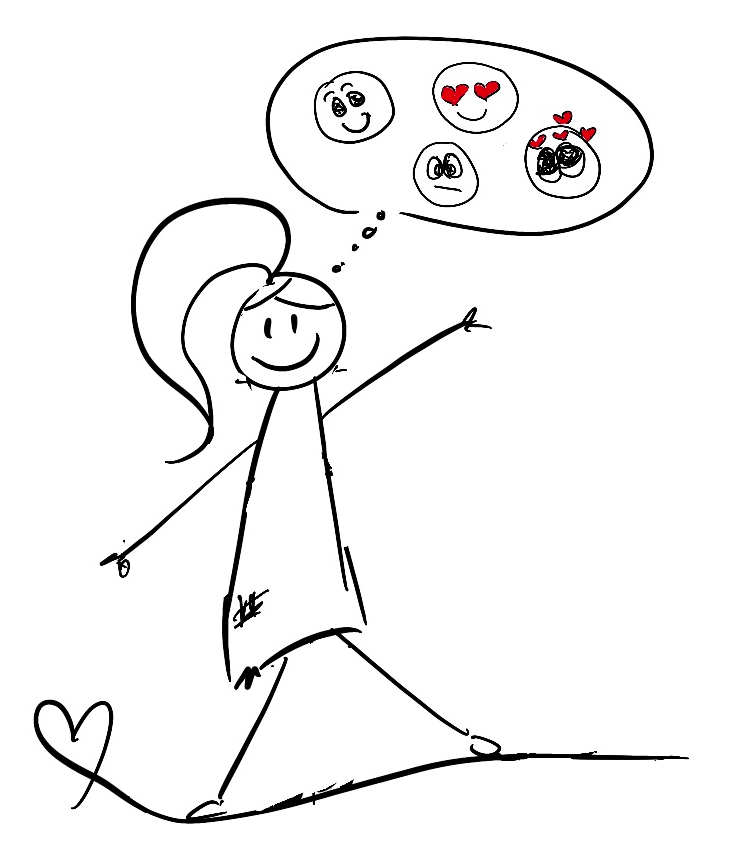 And, technically, emojis are accessible.
But, because they are read aloud by screen readers, you need to be mindful of how to use them.
How come?
Because Emojis have a Unicode string.
A Unicode string is the description you see when your cursor falls on it, and this is the code the screen reader reads to a blind or partially sighted person.
The screen reader basically translates the emoji's meaning via its alt text.
So, if you add several emojis in a row, for example, the poop emoji, your audience will get to listen to "pile of poo" ten times in a row.
How can you make sure your emojis are truly accessible?
Use them occasionally.
Use them at the end of your sentence or paragraph.
Avoid long emoji strings (remember, the pile of poop example)
Avoid using them as a replacement for text.
Be mindful of where you place your emojis.
Make sure they reflect what you intend to express.
Double-check emojis alt text descriptions (remember, emoji descriptions vary, so check and change them if necessary.)
Check that assistive technology can read your emoji (not all screen readers can read them).
Don't use emojis to replace your message. Use them only to 'add' to the context of your text—at the end of your message, social caption, or sentence.
Avoid changing the color on customizable emojis because emojis with custom skin tones have extra information, so content is longer — and possibly more confusing — for anyone using assistive technology.
Accessibility tip: Learn how to use emojis wisely and double-check descriptions with emojipedia.org. The website lists all emojis, their appearances, and descriptions across platforms, devices, and browsers.
Captivate your audience with accessible content and make the work-world a welcome place for disabled people.
You may feel overwhelmed.
You may even feel intimidated by Camel Case hashtags, alt text, and emojis.
But remember, accessibility is an ongoing process.
Use these 3 little things and your LinkedIn social media posts will be brimming with accessibility and you'll be on your way to becoming a more trusted disability-inclusive authority.
Are you ready?
3 Simple Ways to Test Your Social Media Content for Accessibility (and Make Disabled People Appreciate You Even More)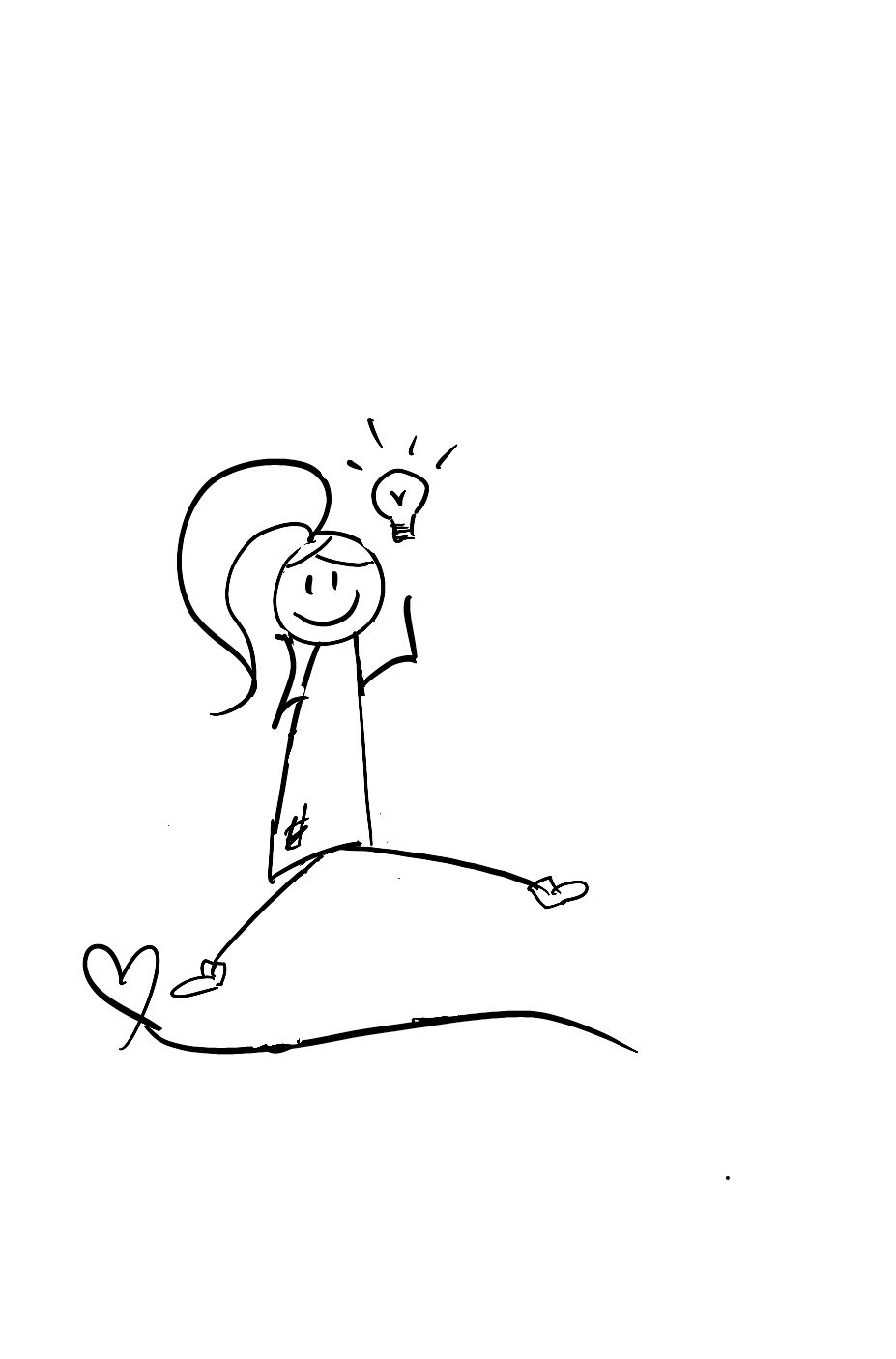 Do you ever try to make sure your social media content is accessible?
Can be tricky, right?
You want to get noticed—and even get clients—with inclusive social media content, but you're not sure how.
I get it.
In this blog post, I'll share 3 simple ways you can test your social media content for accessibility and make your clients appreciate you even more.

Ready?
1. Use your smartphone
Did you know your smartphone has an in-built assistive technology (AT) tool that can help you test your social media content for accessibility?
That's right.
Assistive technology tools like Screen readers and Text To Speech (TTS) tools support blind and partially sighted people, and people with learning disabilities like Attention Deficit Disorder (ADHD) and dyslexia.
Blind and partially sighted people in particular benefit from screen readers because the technology allows them to access information using speech, braille, or both.
Let's take a closer look at the two most popular assistive technology tools you can use to test your social media content for accessibility.
VoiceOver on iOs
For iPhones, the text-to-speech program VoiceOver.
How to set it:
1. Go to Settings and scroll to Accessibility.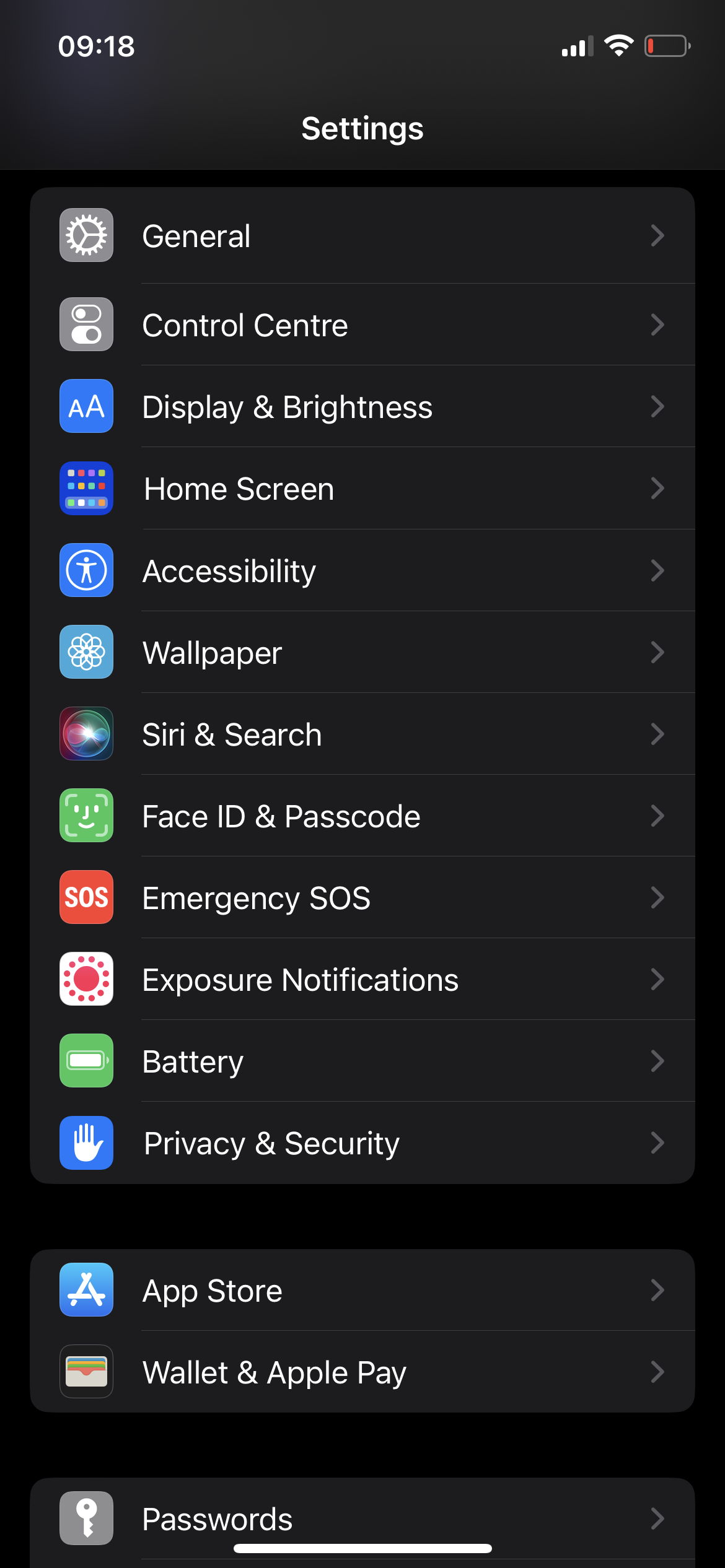 2. Choose the first option, VoiceOver, and tap toggle "on".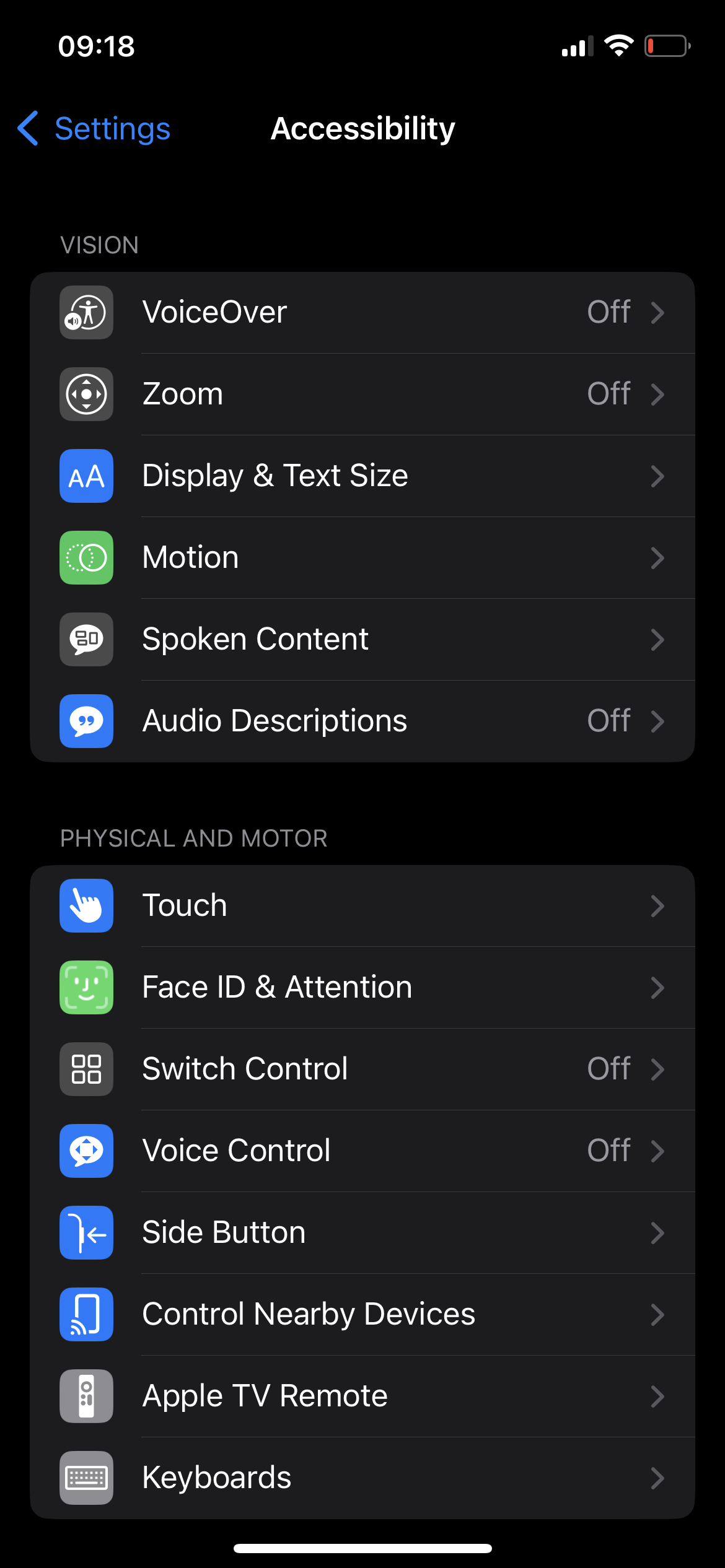 3. Here's where you can set the speech settings like the type of voice, pitch, and speaking rate (speed).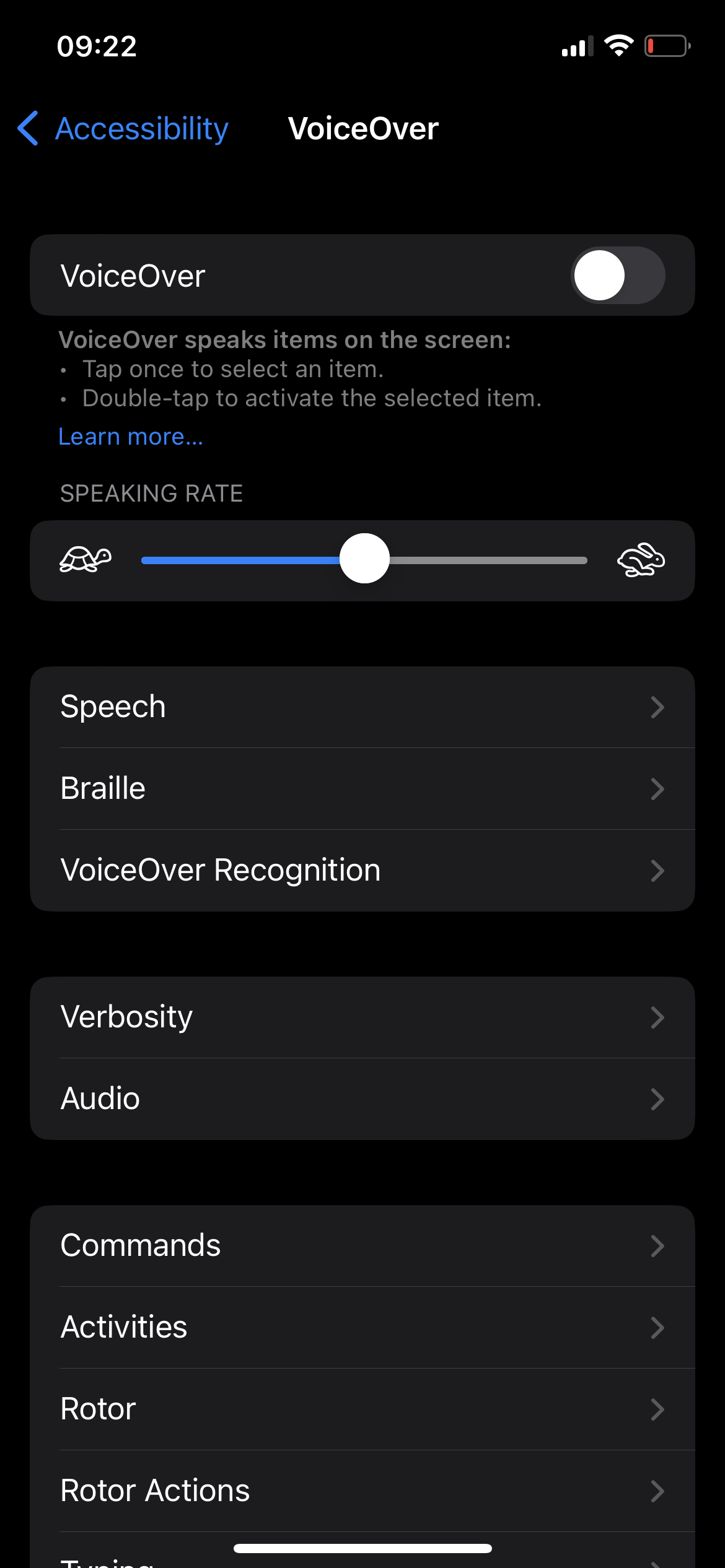 When you're done you can switch VoiceOver on/off by triple tapping your iPhone's Home button. You'll know the feature is working by the audible 'VoiceOver on'.

Now when you touch the screen or drag your finger over it, VoiceOver will speak the name of the item your finger is on, this includes icons and text.

Each icon or button you select will have a green box around it, called the 'active icon'.

You can use VoiceOver gestures when you want to interact with a button or link or to navigate to another item.

If you want more information on how to use VoiceOver, Apple has a list of YouTube videos on VoiceOver and other iPhone accessibility features.

TalkBack on Android
For Android users like myself, there's TalkBack.
There are three ways you can enable TalkBack. You can use the volume key shortcut, Google Assistant, or by accessing your device settings.

Let's start with your device settings.
How to set TalkBack in Settings:
Go to Settings and scroll tap Accessibility.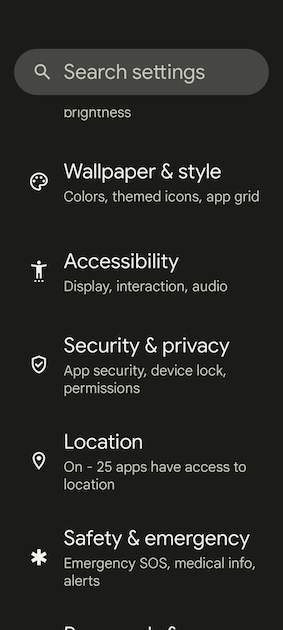 2. Scroll and tap TalkBack.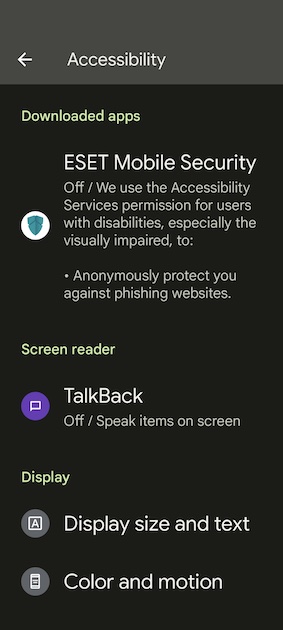 3. Use TalkBack, toggle on.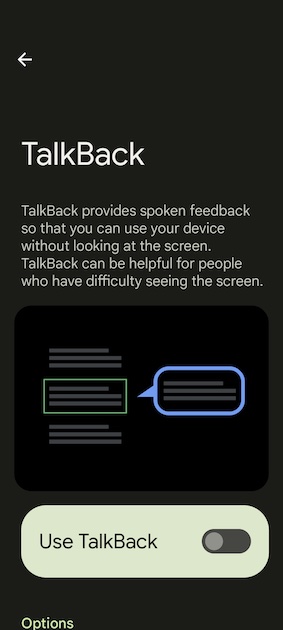 How to set TalkBack with Phone Volume Keys:
Press and hold the Volume Up and Volume Down buttons simultaneously for three seconds. An audio message should play stating that TalkBack is on.
How to set TalkBack with Google Assistant:
Open Google Assistant > Say, "Turn on TalkBack" to activate.
Accessibility tip: First activate your phone's voice assistant to ensure you can turn off text-to-speech if you get stuck.
2. Reach out to disabled accessibility experts
Reaching out to disabled accessibility experts like Krista Giannak and Mede Akran is by far the most reliable way to make sure your content is accessible.
Why?
Because disabled people depend on accessibility. They have first-hand experience with going online, using assistive technology, and experiencing the barriers of inaccessible content.
They also stay up to date and can perform functional testing.
And another thing, accessibility experts also offer services such as digital accessibility training, assistive technology training, and marketing communications support.
All you have to do is reach out.
3. Get in touch with disability and accessibility consultants
Disability and accessibility consultants are experts who can assess your digital accessibility, perform manual and functional testing, and guide you to create a barrier-free social media presence.
They either have first-hand lived experience or they work in a team with disabled people. An example of such is the web design agency Access by Design.
And another thing:

It's possible your business or organization is making itself more accessible and has or is building its own accessibility team.
Captivate your audience with accessible content
You may feel overwhelmed.
You may even feel intimidated by Camel Case hashtags, Alt Text, and test-running for accessibility.
But remember, accessibility is an ongoing process.
Armed with the knowledge in this post — and a burning desire to squeeze every accessibility tweak out of your social media content, — you'll be well on your way to strengthening your brand identity, building brand trust, and maximizing marketing potential with the disabled community.
Ready to get started?
No Accessibility In Your Business Culture? Focus on Inclusion Instead, Say These 3 Global Disability Experts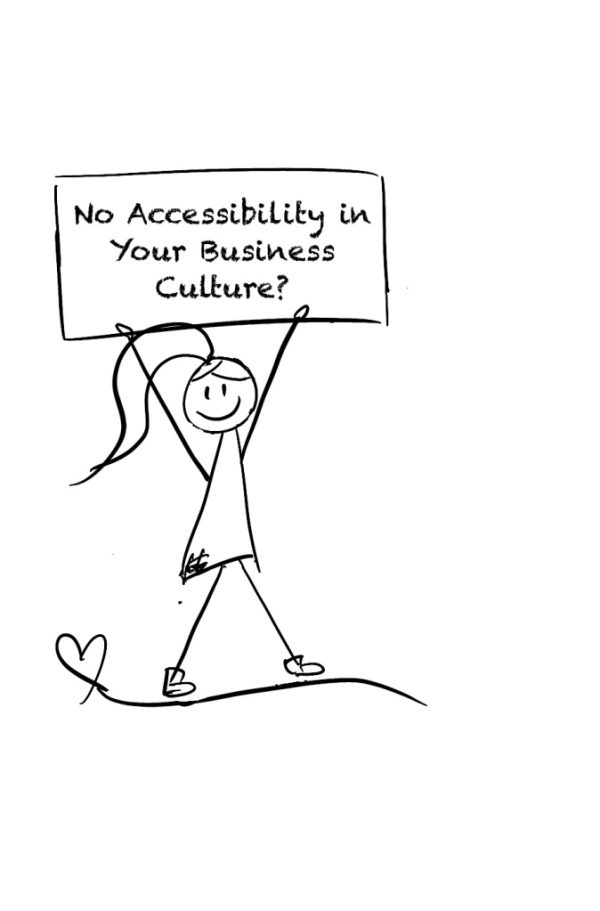 It's not your fault.
You've worked hard to create a culture of accessibility into your business.
You've built an accessible and usable website. Provided designated parking spaces, and accessible toilets.
You even have a flexible work policy.
But now you're not sure.
You begin to recognize that accommodations don't mean accessibility. They don't mean your workplace is inclusive.
And you wonder, how can you change it? How can you focus on the person rather than the disability? How can you build a strong empathetic culture of accessibility?
I asked three global disability experts and here's what they said.
Are you ready?
1. Be proactive with your accessibility mindset
It's true.
Our business world views accommodation as accessibility.
We believe when we respond to the requirements of disabled people we're creating an inclusive workplace.
But here's the interesting thing.
Accommodation is your answer to a person's individual requirements. It's reactive. It's the little adjustments you make after a disabled person has opened up and told you they're disabled. It's not accessibility.
Think about it.
Imagine sitting with your colleagues at the campus cafe. You're enjoying the cool shade after a successful team-building meeting. You're drinking an ice-cold frappe and enjoying the Rhein's elegant beauty.
You decide to go to the bathroom and ask for directions. But the doors to the toilet are not built with accessibility in mind. And your guide dog can't read.
So you stand there thinking, which door is it?
If the toilets had been designed with accessibility in mind, they would have contrasting door handles and frames so you'd know where they are and how to open them. And, a Braille description would be there to translate visual signs.
Instead, you have to go and ask for help.
What does this have to do with your inclusive business culture?
When your disabled employees need an accommodation they'll have to ask.
How do you think they'll feel?
You guessed it:
They might worry. What if I'm stigmatized? What if I'm not accepted? Or worse, what if I lose my job?
How can you change that?
I caught up with Haben Girma a world-renowned disability rights lawyer, author, and speaker, and here's what she said.
"Start by partnering with an accessibility consultancy to train your team. Keep learning these skills and soon you will become experts, too."
Want to see how it works?
First, take the initiative and measure your data and metrics to identify where your gaps are.
Second, make sure all your staff have access to the resources they need to feel disability-confident.
Third, get out and hire people with disabilities. Contact colleges and universities. Engage with groups that support disabled people and build a sure-fire recruitment channel.
Finally, like a flourishing garden design your systems, your processes, your training and development tools, and your workspace in a way that makes everyone feel welcome.
You see, when you invite your business to embrace and support the culture of accessibility the most amazing thing in the world happens.
You open the door to empathy for people with disabilities in the workplace. And that's when you know no one in your workplace is left behind because of their disability.
But how do you make sure everyone is included?
Let's take a look, shall we?
2. Stop ignoring disability in your inclusion policy
I won't lie to you.
Diversity and inclusion are broad, hard-to-swallow topics that often require specialist knowledge.
Without guidance, many businesses don't know where to start.
Sure businesses everywhere are quacking like ducks promoting their diversity and inclusion but did you know only 4% consider disability in their workplace policies?

In a recent interview, Caroline Casey, founder of the Valuable 500 said:
Don't be one of them.
Diversity is your company welcoming employees from a group like race or gender, ethnicity, religion, nationality, or sexual orientation and wait for it…
Disability.
That's right.
Inclusion is for everyone. It's not a pick-your-favorite ice cream flavor of the month. You either do inclusion or you don't.
Let's see how, shall we?
Meryl Evans is a global voice in the disability community. She's a professional speaker and trainer on diversity, equity, and inclusion (DEI) with a focus on people with disabilities, accessibility, and accessible communication.
Here's what she said.
This means, the company delivers on employees' accessibility requirements that help them thrive in their roles. It lets disabled people bring their full selves to the table, and encourages them to use their voice and lead."
You see, it's your choice if you want to foster that culture of inclusion where your employees can feel like they're part of something bigger.
3. Understand the requirements of your disabled employees
Did you know a manager is responsible for 70 percent of team engagement?
That's right.
Managers build connections.
And, as a company leader, you're the key player in supporting your disabled employees to feel at home.
What do I mean?
My friend Petra was born blind and has a guide dog. I used a wheelchair to go to work after a motorcycle accident. My autistic student, Till, needs a quiet space where he can recharge during class.
Think about it.
You can be born with a disability. An injury or illness can cause a disability.
But, learning, attention, mental health, and chronic pain are also disabilities.
So, while some disabilities are obvious or have obvious physical characteristics, most don't.
Heck, your coworker could be struggling with depression, anxiety, or chronic pain and feel isolated because people around him judge and ridicule and you wouldn't have a clue.
And you know what else?
1 in 4 disabled people have two impairments and 1 in 10 have three or more.
Most likely your employees desperately need certain requirements in their workplace and aren't getting them.
What can you do?

Anna Maria Gertsou, co-founder of Lara Guide Dog School, has a history of working in the non-profit organization management industry. She's a clinical psychologist skilled in Psychological Research, Cognitive Science, and User Interface Design. She's also the first blind woman to introduce guide dogs to Greece.

Her view is extraordinarily simple.
The truth about building a culture of accessibility into your businesses
By now you realize a disability-inclusive culture is not about the website a blind person can access.
It's not about the building a person using a wheelchair can get into.
And, it's not about the ramps, the designated parking spaces, or the accessible toilets.
If you want to build a culture of accessibility into your business you need to reach out to disabled employees.
Connect with them and support them.
Go on. Pick up the courage and get started.
Be the disability-inclusive leader of your tribe.
And keep moving forward.

An Open Letter to Anyone Who Thinks Their Disability is a Cause for Inaccessibility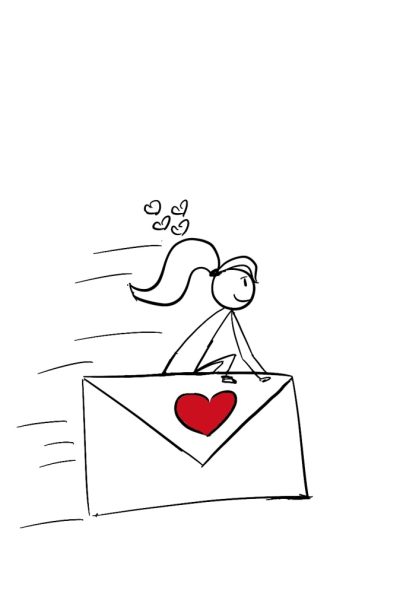 When you see non-disabled people move around a city, what do you think?

Do you want to move around like them?
Do you feel embarrassed by the way you use your cane? Do you feel disheartened by the divide between the way you stumble along the hazardous sidewalks and the smooth way you'd like to walk?
Most blind and partially sighted people are unhappy with navigating the streets.

They agonize. They despair. They feel drained.
Navigating the non-disabled world may feel like sailing rough seas.
Imagine setting sail for the weekend with a clear mind full of optimism.

You dream of basking in the evening sun, gobbling up a heart-warming meal of pasta, courgette balls, and feta sprinkled with olive oil and oregano.
But instead, you see threatening clouds closing in and begin to worry. So, you give yourself a good team talk, hoist your sails, adjust your heading, and sail into the wind.
Each nautical mile feels excruciating. Your sailboat is taking a beating. Tall waves want to break you and breakfast wants to come up.
When sailing through a storm your destination can feel like a miserable experience.

Catarina Riviera, a deaf/blind DEI consultant, and public speaker recently posted on LinkedIn about her travel experience in Mexico City on LinkedIn.

First, she talks about the difficulty of navigating curbs.
Then, she goes on to tell us about her difficulty with pedestrian signals.
Why does Catarina share this with us?
She says it's because she wants to illuminate these moments of being disabled in an inaccessible world. And, to bring more awareness to the need to be inclusive.
She also says, that in every community, city, workplace, etc., there are disabled people expending extra energy to adapt.
And, she feels for them.

And you know what?

This conforming to the inherently ableist world happens every day.
So what's the answer?
Become your own accessibility champion
Imagine growing up with no disabled models to empower you.

No disabled Cinderella or Superman to look up to.

How would you feel?

Frustrated. Discouraged. Isolated.

In her post, "How Can Attidutes Change Towards Disability?", Rachael Mole, founder of SIC, challenges us to step outside our comfort zone and support each other.

I like the idea.

For example:

Support fellow disabled entrepreneurs, fashion designers, actors, and athletes by following them on social media, sharing their messages, or buying their products.
Reveal your own accessibility journey, the peaks, and valleys
Celebrate the success of other accessibility advocates in the workplace and beyond
Create your own accessibility champions network
Why is this important?
Because self-defeating behavior often creeps up like a shadow. But we can overcome it and grow a community of accessibility advocates to illuminate how accessibility impacts and connects us all.
What do I mean?
Grow a community of accessibility advocates
Last year I decided to go on a mission. My goal was to connect with people on LinkedIn who share the same values and beliefs about accessibility and inclusion.

Like a stranded sailor, I craved the opportunity for a cozy chat with allies and supporters who get what it feels like to stand up to ableism and fight for disability rights.
That's when I discovered the pulsating disability advocate, Debra Ruh.

Debra explained that when her daughter, Sara, was born with Down's Syndrome, experts made a mistake. They said her daughter would be lucky to push shopping carts at the local grocery store.

But Debra refused to accept this.
Armed with the love for her daughter she went on a quest to show the world the power of human potential, and in 2013 she started the social enterprise, Ruh Global IMPACT.

Now she had the power to focus on disability inclusion by working with major multinational corporations, the UN, and foreign government agencies.

But that's only half the story.

With strategic planning, marketing, fostering smart cities, and accessibility, Debra's efforts led her to create an oasis for people with disabilities.

The empowering organization, Billion Strong.

Now, billions of voices of people with disabilities come together armed with the power of inclusion.
Do you see where we're going with this?

Here's another simple, yet powerful example recently posted on LinkedIn from the founder of Access By Design, Clive Loseby on web accessibility.

Do you see how huge this is?

Disabled people coming together to create their own accessibility community.
I demand disabled people are recognized as being thought leaders in their own right.
Why is this important?

Because disability is Human.
Empower your identity
Each of our paths to disability awareness will be unique, but the outcome will be the same; an inclusive and accessible world for all.

Most of all we will be surprised to learn that the accessibility we long for is here waiting for us. It's been our prerogative all along.

We just need to unlock it. To access it. And to share it with the world.
How to Speak to a Disabled Person With Confidence When the Whole World Seems Uncertain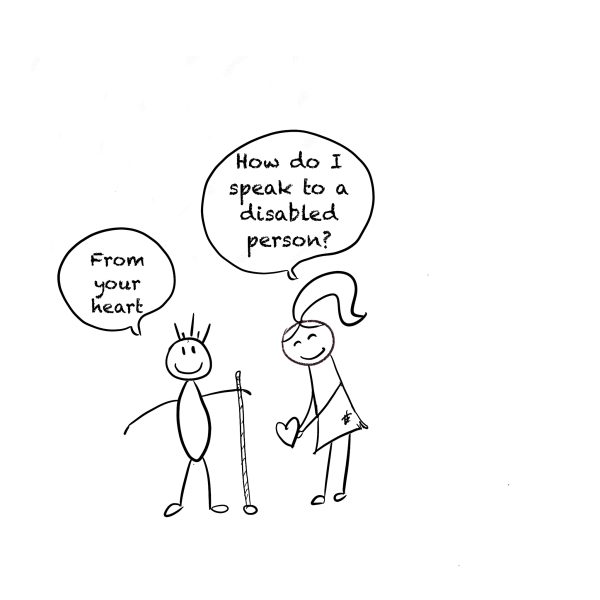 Oh my.
Have you ever felt awkward when you met a disabled person? Have you ever wondered how you should react?
What should you say?
We've all been there.
Now, there are many enlightening pieces of advice out there showing you 'what to do'.
The downside?
Most come in the form of a poster.
They can educate you on the mechanics of disability, what to do, and what not to do.
Read through them, and you can learn how to communicate with a disabled person.
Heck, you might even do something that wins you extra brownie points like helping a blind person cross the street.
But if you dig deeper, if you want to know how to speak from the heart with confidence, cut through the noise, and even become an advocate, you need something better than a hackneyed cliche 'What to do' post.
You need a complete guide.
In this post — this complete, step-by-step guide — I'll share 3 tips used by disability writers to help you connect with disabled people.
You'll learn the secret to unlocking empathy, creating life-changing relationships, and motivating people to see disabled people with an open heart; for who they are.
People, like you and me.
Sound good?
Let's get started.
3 trustworthy ways to learn disability-etiquette
1. Understand your hidden fear of disability
Don't you hate that prickly feeling you get when you sit next to a person with a disability?
It's a strange feeling, isn't it?
At first, you begin to feel tense and avoid eye contact. Then you try to shake it off only to have your face flush like a tomato.
Meanwhile, all I can think of is the scene in Wizard of Oz when Dorothy says, 'Toto, I have a feeling we're not in Kansas anymore.'
What do I mean?
Like Dorothy, you've entered an unfamiliar and uncomfortable place. This dark place is your self-doubt, your lack of confidence, your fear of being separate from this person and suddenly having to deal with it.
That's when it hits you.
You're afraid of disability, and you feel awkward.
Why does this happen?
For one thing, because you don't see the human being in front of you. You focus too hard on the disability. Then, you label disability as different. Less-able. Fragile. Bad. And, bad is scary.
Right?
Well, one thing is for sure:
You're not alone.
Did you know 1 out of 3 people thinks having a disability makes you less happy and less productive?
But hang on a minute. Where does this come from?
Let me tell you a little story.
When Anna was 5 years old, her dad's friend came to ask for a guide dog. He was a towering man, with a big face, and cloudy eyes. He used a cane when walking, and wore large dark sunglasses. Anna was scared of him. "Don't stare at him, it's rude! Look away!" her grandmother said.
But, she couldn't help herself. She wanted to stare. Because when you're a kid, you want to try and understand why someone has a body different from yours. So, Anna grew up afraid of disability. She learned disability is something you don't acknowledge, it's something to avoid. And, she realized people think that too.
What might surprise you is that I left out a piece of the story.
It's the part where I was Anna and instead of ignoring disability, my father asked me, 'Do you know why his eyes are different? 'Because Petro has an eye disease that stops him from seeing well. His cane helps him to see when he's moving around. Now, he would like a guide dog to help him zip through the city.'
In short, the more time we spent together the more I learned Petro was a million laughs, not scary.
He taught me all about canes, how a blind person gets around, and even how I can magnify my senses, and see with my ears.
And that's when the most amazing thing in the world happened.
A glorious seed was planted.
A seed that grew to shape my attitude. My actions. And, my perception of disabled people. A seed that took the place of discrimination, and prejudice, and closed the door to ableism.
And you can plant that seed too!
By now you'll have realized how you see a disabled person springs from your limiting beliefs. A set of beliefs placing a greater value on non-disabled people, and a lower value on disabled people.
So, when you're staring, instead of looking away, ask the person next to you the simple question. You'll be surprised how it will give you permission to engage in conversation and learn that disability is ok.
2. Control the power of words and wipe out ableism
Scope's new research says, 67 percent of people feel uncomfortable when talking to a disabled person. They fear sounding patronizing, saying the wrong thing, and doing the wrong thing.
If the sight of a disabled person makes you feel uncomfortable, sit with your feeling.
Feel it.
Be a detective, and investigate the root that gives rise to awkwardness, and leads to ableism.
The video below, Things People With Disabilities Wish You Knew, talks about it - Ableism.
As you might expect, ableism is when your belief system says your abilities are superior to a disabled person. It's when you think disabled people are less than.
But that's just the tip of the iceberg.
Why?
Because our society wasn't created with disabled people in mind, and the world we live in, is at its core 'ableist.'
In fact, ableism has been lurking in our belief system for an outrageously long time. It's the disfigured face of discrimination, the brutal side of social and financial injustice, and the primitive stage of inclusion.
The rotten roots of ableism run deep. They feed off downgrading limiting beliefs.
They invade malnourished parts of our society and twine their way into daily life taking many forms.

How?

Here are a few ways: ​Lack of compliance with disability rights laws
Buildings without braille on signs, elevator buttons, etc.
Buildings without accessible entrances, rooms, etc.
Supermarkets without braille on aisles, or inaccessible entrances
Inaccessible websites
Refusing to provide reasonable accommodations
Refusing to provide access to public transportation
Punch-line disability or mocking disabled people
The belief disabled people need to be healed
Dividing disabled students into separate schools
Using restraint and seclusion to control disabled children
Exposing disability as inspirational or tragic in news stories, movies, and other popular forms of media
Making a movie that doesn't have an audio description or closed captioning
Casting a non-disabled actor to play a disabled character
And that's just part of the story.
Here are some simple, yet powerful examples of ableist actions:
Talking to a disabled person like they are a child, or not talking directly to them, or speaking for them
Thinking people must have a visible disability to be disabled
Questioning if a person is disabled, or 'how much they are disabled
Using a mobility device to lean or rest
Choosing an inaccessible place to meet
Wearing scented products in a scent-free environment
Using the accessible bathroom when you don't need to
Making a movie that doesn't have an audio description or closed captioning
Casting a non-disabled actor to play a disabled character
Asking invasive questions about medical history or personal life without permission
What about obnoxious little-known ableist insults?
I know you don't mean to be insulting. And, you probably have good intentions.
But even your well-meant comments and actions can have a negative effect on a person with a disability.
Little-known ableist insults communicate a negative message about a person's disability.
Here are some examples of what I'm talking about:
"I don't even think of you as disabled."
"Can I pray for you?"
"I'm super OCD about how I clean my house."
"That's lame."
"You are so retarded."
"Wow! That guy is crazy."
"You're acting so bipolar today."
"It's like the blind leading the blind here."
"Her ideas fell on deaf ears."
"He's such a psycho."
Sigh.
Can I be painfully honest with you for a moment?
The simple truth is when you speak like this you're saying a disabled person is less than. You're communicating disability is bad, and negative, and it's a problem in need of a fix.
So, how can you communicate in a well-respected way?
How can you speak about accepting disability as a normal, inevitable part of life?
Let me show you.
Let disabled people choose how they want to talk about their disability.
First off, disabled people have the right to choose how they talk about their disability.
Next are 2 ways to bring up disability:
Person-first language (PLF) - you put the Person-first language (PLF). This means you put the word 'person' before you mention disability. For example, 'He is a person who is blind.'
This way you recognize and accept a person who has a disability is, indeed a person.
And get this, it also sends the message of separating the person from the disability.
The point?
You're respecting the identity of someone with a disability.
Identity-first language (IFL) - here you lead with disability. For example, 'disabled person', or 'She is a blind woman.'
Now, you recognize disability as a piece of their identity.
In short, think of how you feel before you speak, and the kind of message you want to deliver.
Then, like a good friend ask with an open heart, and be fair.
3. Use compassionate disability-inclusive language
Imagine living your whole life explaining to people why the words, and mind-numbing phrases they use are hurtful and offensive to you.
How would you feel?
Let's be honest, words matter.
Dr Haim Ginott, a children's clinical psychologist dropped the revolutionising truth bomb when he said, 'How parents and teachers talk tells a child how they feel about him. Their statements affect his self-esteem and self-worth. To a large extent, their language determines his destiny.' And, this is true for adults too.
The point?
When speaking to a disabled person it's easy to let your fear get the better of you.
Take a deep breath, and become aware you're speaking to another human.
Then, think about how you feel, and the message you want to deliver.
Not sure how?
I created a simple little 'poster' to help you out.
On one side you'll find respectful disability-inclusive language, on the other side you'll find more outdated terms and phrases.
Still, finding yourself stuck for words?
In her blog post, 'There's More Than One Correct Way to Talk About Disability', Halsey Blocher tells us:
If you ever need to know how you should talk about someone, ask them what they prefer. That's the most respectful thing you can do.
Become a power-up voice of authority for disability
Lack of knowledge, understanding, and outdated attitudes are some good reasons why the whole world seems uncertain around people with a disability.
Don't let this be you.
Trust in yourself to build life-changing relationships with disabled people. You are on a mission to attract, energize, and motivate people around you to see disabled people with an open heart; for who they are.
People, like you and me.
I'm ready. Are you?